The Fisherman's Knot

The Fisherman's knot is used by fishermen to join strands of fishing line. It is one of the best knots for tying fine lines together, especially plastic or nylon.
You are out in the water heading to your camp site and your about to dock. Then you realize both of your ropes are to short to fit around the dock pole. So you must use the fishermans knot to conect two ropes so you can dock the boat.
Cow Hitch Knot
Now that your on the land you realize that your clothes are wet. So need to tie your clothes to a tree to dry. So now have to tie the cow hitch knot.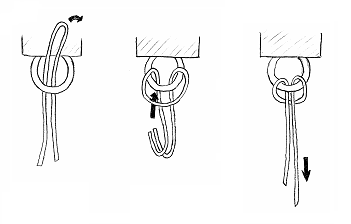 Now make video of you doing the tasks above and also show in the video another example of how the knots could be used.